os.alateen.coordinator@gmail.com
Just a Teen's Reach Away
A personal story by a member in Alateen service
I have been drawn to Alateen service ever since recognizing that my own struggles throughout my teen years were actually the effects of living with the disease of alcoholism. My struggle to claim my independence in the face of obstacles seemed at the time like some cruel joke of nature—obstacles like the inability to earn my own money, drive a car, move into my own home, etc. The strained relationships, the sibling rivalry, the inconsistent—or even nonexistent—rules, which were all so normal for me, turned out not to be so normal for everyone else.
It all made sense when I entered Al Anon and began to learn more about the effects of alcoholism on my life. When I started serving Alateen, my heart swelled with gratitude knowing that these young people were getting gifts of the program that would make their days so much more manageable and which they could carry throughout their lives. But there weren't many teens showing up to meetings, so our links of service set out to find them.
My children attended Alateen and were excited to carry the message to their friends (it was no surprise that most of their friends were also affected by the family disease of alcoholism). They posted announcements on the school walls and wherever else they thought practical. Our Area trusted servants suggested that we "go where the teens are," since, as in my own experience, driving anywhere was likely an obstacle for them.
Our more successful attempts at attracting teens involved holding meetings at easily accessible recovery clubs and any meeting place that had concurrent Alcoholics Anonymous (A.A.) and Al Anon meetings. Several Guidelines related to Alateen outreach and service offer even more ideas. They can be found at al-anon.org/guidelines. These compilations of wisdom reflect the experience of trusted servants from all over.
Likewise, Area Alateen Coordinators have access to the Alateen Coordinator community on AFG Connects, a password-protected website where Coordinators share an abundance of service experience. Ideas for activities, celebrations, skits, and workshops can be found in the library feature, along with an extensive history of discussion posts. Recordings of past conference calls (confidential to the community participants) address getting started in Alateen service, rotation of service, and annual Area recertification.
If you are an Area Alateen Coordinator, be sure to access the AFG Connects community to see what's there and to share your own experience, strength, and hope! And don't forget to pass these valuable resources along the links of service to Alateen Group Sponsors. Group Sponsors and anyone interested in Alateen outreach and service can contact their Area Alateen Coordinator for more information.
By Christa A., Senior Group Services Specialist World Service Office of Al-Anon
---
Ideas and suggestions to help support Alateen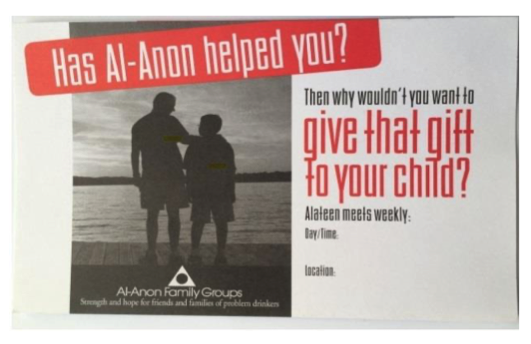 On February 12, 2022, the Ontario South Alateen Coordinator and the Ontario South Alateen Process Person held a workshop with the theme 'How can Al-Anon support Alateen?'
Here are some ideas that were suggested during that workshop:
Have Alateen literature available at your Al-Anon meetings for members to review,
purchase, or read;
Display the Alateen card at meetings (with locations of any Alateen meetings in your area), and read/share on it at your meeting;
Read from and share on Alateen literature in meetings;
Let new Al-Anon members know about Alateen, and advise them if there is a meeting in
their area;
Encourage members with children to bring them to Alateen meetings;
If there is an Alateen meeting in your area, remind the members at your meeting
regularly;
Attend open Alateen meetings (typically gratitude or anniversary);
Invite an Alateen member to share at a speaker meeting, or an Al-Anon day;
Remember, and remind others, that any teenager affected by alcoholism is welcome to
attend an Al-Anon meeting;
If an Alateen group is seeking space to meet, consider whether there is another meeting
room available in the building your group meets, that could be offered;
If there is an Alateen group meeting in the same area/building, consider having joint
meetings from time to time, so the Al-Anon members learn about Alateen, and the
Alateen members learn about Al-Anon;
Be open to, and ask ask your Al-Anon group to consider requests for financial support for
Alateen events and conferences;
If you are a member of an organizing committee for an Al-Anon conference, or a
conference with Al-Anon participation, create space in the program for an Alateen
speaker, or even an Alateen program. (For an Alateen program, you would need to have an AMIAS as the Alateen Coordinator. They could help find an Alateen program chair.)
(Posted on March 15, 2021)
---
The below sections in the Ontario South Policies & Guidelines Manual (APM) apply to Alateen
11A-Alateen General
11B-AMIAS Certification (was: SAM Certification)
11C-Group Registration
11D-Additional Safety Guidelines
11E-Safety Guidelines for Conferences
11F-Alateen Advisory Committee
11G-New OSAAC Charter
11H- New OSAAC Finances

Forms for Alateens that want to participate in events
Section 10 – Form A: Information and Permission Form
Section 10 – Form B: Medical Form

Forms to register a new Alateen group or to make changes to an exiting Alateen group:
Section 10 – WSO forms
Frequently used abbreviations
AMIAS – Al-Anon Member Involved in Alateen Service (previously: SAM – Supportive Al-Anon Member)
AAPP – Area Alateen Process Person OSAAC – Ontario South Alateen Advisory Committee
OSAAC – Ontario South Alateen Advisory Committee