Literature Order Forms October 2020
The Forum: monthly magazine
Available digitally or on paper, delivered to your home in a discrete envelope. Read more about your options here:
https://al-anon.org/?s=Digest+of+Al%E2%80%91Anon+and+Alateen+Policies&lang=en
Some of our Conference Approved Literature is now available as e-book. Find an overview here.
New and featured literature 2019-2020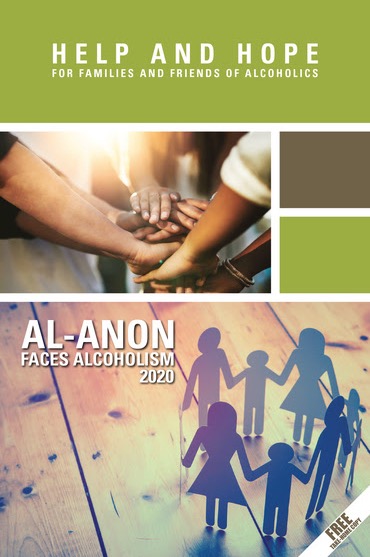 Al-Anon faces Alcoholism magazine: now in stock!
The Al-Anon Faces Alcoholism are now in stock. You can order in multiples of 25 and they are $13 for 25 before tax. Just make sure it is noted boldly on your orderforms or e-mail.
"Each day offers the opportunity to share the help and hope that Al‑Anon offers to families and friends of alcoholics who are unaware of our program. Ask if you can leave behind a few copies of Al‑Anon Faces Alcoholism at doctors' offices and health care facilities, treatment and rehabilitation centers, therapists' counselors' and social workers' offices, and libraries."
—-WSO
Version 2 of the Service Manual is available to order
The revised service manual is in stock. If your group wishes to get this and doesn't want to pay postage, collection at AWSC by your DR would be a good place to accomplish this. AWSC pre-orders must be in and paid for by 3:00 on April 27. Late orders will not be accepted.
S-69 Al-Anon Family Groups Welcome Adult Children of Alcoholics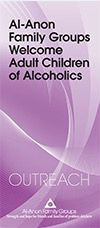 Alcoholism affects many people not just the alcoholic. For every alcoholic at least 4 others are affected and they can be partners/spouses, friends, siblings, parents and children. This pamphlet shares that if you grew up in an alcoholic home, there is a safe place to go with help and hope, so that you can live a happier life. It is filled with sharings from adult children as to how they were affected and how they felt. After each sharing there is a response as to what is offered in our Al-Anon program that may help. There is a list of CAL material and the 12 Steps that may be of specific interest to the adult child coming through our doors.
---
S-67 Al-Anon's Path to Recovery –Al-Anon Family Groups Welcome Native
Americans/Aboriginals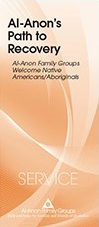 It is important that everyone knows they are welcome in Al-Anon if they have been affected by someone's drinking. The pamphlet includes a diagram which uses the steps to draw parallels to the native culture in how the program works. When we connect to familiar things in the culture of others it may offer an insight that in fact it is not opposed to their beliefs and customs but can work in a manner that fits into it. The pamphlet shares what Al-Anon is and is not so possible barriers can be cleared
---
K-10C Professional Kit
This kit includes Fact Sheet for Professionals S-37EF, Information for the Newcomer S-4, Has Your Life Been Affected by Someone Else's Drinking S-20, Are you Troubled by Someone's Drinking S-17, Did You Grow up with a Problem Drinker? S-25, Facts about Alateen P-41 and Understanding Ourselves and Alcoholism P-48. This is a great way to get the message to professionals. You may even want to include an Al-Anon Faces Alcoholism magazine
---
Looking for a Public Outreach Project on a Limited Budget?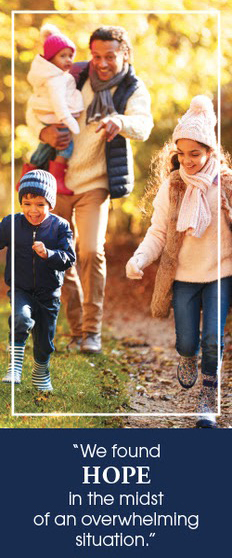 The redesigned Public Outreach Bookmark (M‑76) is now available. With updated graphics and text that features the same message as the current PSAs. The bookmark is an ideal outreach tool. Help reach potential newcomers in your community by distributing it in public places. Available for free (plus shipping).
Note: some of our materials are available as free download and in different languages than stated on the Ontario South website. Please go to the Al-Anon store at al-anon.org to find out more.
---
The Al-Anon Family Groups Headquarters, Inc. publishes literature containing the experience, strength, and hope of its members who apply the principles for their own recovery. Among the Conference-Approved Literature (CAL), there are assorted books, pamphlets and leaflets. You can also sunscribe to our monthly magazine, The Forum.

This wealth of information from those who have lived with alcoholism is used for individual daily reading and as a focus for study by members during their meetings. All are printed in English and many have been translated in over 30 languages and used worldwide. Videos and other materials are also available.
Most meetings have a good selection for sale of our literature – pamphlets and flyers are usually free (but a small donation is always appreciated). Some groups have a small lending library. You can also buy direct from our Ontario South Literature Distribution Centre.
Need more information? Please contact our Literature Distribution Coordinator by emailing your questions to: os.literature.distribution@gmail.com
---
About Conference Approved Literature
Al-Anon Conference Approved Literature (CAL) presents the Al-Anon and Alateen programs to members of our fellowship and the public at large.
All Al-Anon CAL bears the seal along with the words:
Approved by World Service Conference Al-Anon Family Groups. This seal and statement give the assurance that the literature is produced by Al-Anon and is consistent with the Twelve Steps, Twelve Traditions, and Twelve Concepts of Al-Anon Family Groups.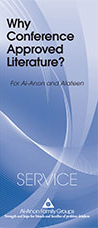 Why Conference Approved Literature?
P-35
About Al-Anon literature, how it is developed from members' shared experiences, and the importance of using it exclusively at Al-Anon/Alateen meetings. 6 pages.
---