"Anonymity is the spiritual foundation of all our Traditions, ever reminding us to place principles over personalities"

Al-Anon's Tradition 12
Al-Anon/Alateen is a program based on anonymity:
The identity of all Al-Anon and Alateen members, as well as members of Alcoholics Anonymous, is protected.
Confidentiality is allowed to develop from a sense of trust and honesty.
The focus is on spiritual principles, not personalities, which leads to a fellowship of equals.
There are several reasons for anonymity. Even though, today, alcoholism is acknowledged as a family disease, there is still a stigma attached to it. There are those who think that alcoholics can overcome the urge to drink if they really wanted to and if not, that family members should make them stop.
We guard against identifying other members or leaving ourselves open to careless criticism, ridicule and pity by creating a safe space in our group meetings. This can only be done if every members keeps in confidence what is said by others. If this confidence is not kept, the consequences can be disastrous, both for the individual betrayed and for the group as a whole.
At meetings it is encouraged to share personal revelations with a sponsor or a fellow member, who knows how to keep a confidence, rather than at meetings attended by many who might not be conscious of the need to anonymity.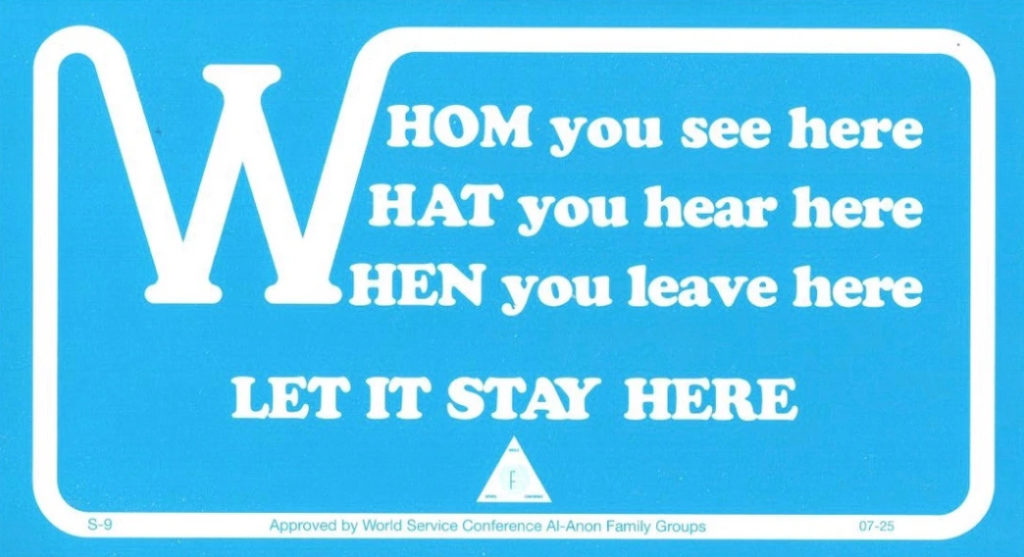 ©A1-Anon Family Group Headquarters, Inc. 1600 Corporate Landing Parkway, Virginia Beach, VA 23454-5617 Phone: (757) 563-1600 Fax: (757) 563-1655 e-mail: wso@al-anon.org. Pamphlet "Why Anonymity in Al-Anon?"