In the loop: everybody can subscribe!
To sign up and receive our 'In the Loop' emails, us the link below. In the Loop is a regular email newsletter with WSO news and contains worthwhile reading materials and news.
To subscribe via WSO, click this link
---
Adventure Awaits in Albuquerque at the 2023 Al-Anon International Convention (June 29–July 2, 2023)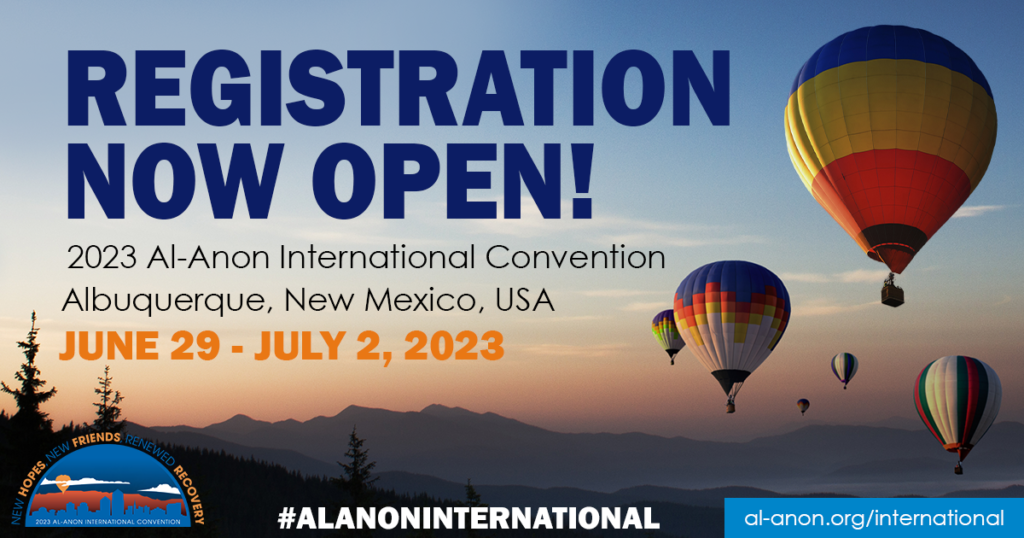 Registration for the 2023 Al-Anon International Convention is now open and this is the time to plan your 2023 summer getaway to the beautiful city of Albuquerque, New Mexico. In addition to celebrating Al-Anon recovery, unity, and service during four days of meetings, panel discussions, and workshops, you can enjoy all the adventures Albuquerque has to offer. Whether it's floating through the skies in a hot air balloon, strolling along the historic Route 66, or just relaxing and gazing out at the beautiful Sandia Mountains, Albuquerque has something for everyone.
The celebration starts Thursday morning, June 29th, with the Day of Connecting, followed later that day with a Party in the Plaza featuring music, dancing, and food trucks galore! The fun continues on Friday with the first of three Big Meetings to kick off a full lineup that lasts all weekend. And while the Convention wraps up on Sunday, July 2nd, you may just decide to extend your stay and explore more of New Mexico and all its wonders!
Set a reminder on your calendar today to register for the 2023 Al‑Anon International Convention. Registration opens on November 8, 2022. More information and updates will be available at al-anon.org/international and via In The Loop. See you in Albuquerque June 29–July 2, 2023!
---
Useful links
The following links are to our World Service Office Website, which may provide more information, particularly for Professionals.
Al-Anon Faces Alcoholism (magazine)
---
WSO News
January 2019 Resume Solicitation Letter
At-Large Committee Resume Form
Executive Committee for Real Property Management
Forum Editorial Advisory Committee Guideline
Public Outreach Committee Guideline