Need more information? Please contact our Literature Distribution Coordinator by emailing your questions to: os.literature.distribution@gmail.com
---
Al-Anon's Twelve Steps & Twelve Traditions (Revised)(B-8)
Our first two Legacies, the Twelve Steps and Twelve Traditions, come alive through essays, reflections, and members' stories. Indexed. 164 pages.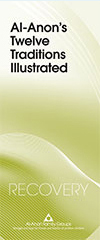 Al-Anon's Twelve Traditions Illustrated
P-60
Al-Anon's second Legacy described with simplicity and humor to help us grasp the principles of the Twelve Traditions. Illustrated. 32 pages.
The Twelve Steps and Traditions
P-17
A pocket-sized starter guide to Al-Anon's Steps and Traditions. Also includes the "Three Obstacles to Success in Al-Anon." 24 pages.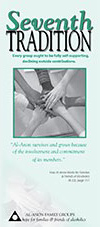 Seventh Tradition
S-21
Describes the meaning of self-support within the Al-Anon fellowship. 6 pages.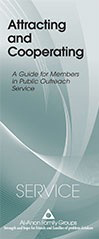 Attracting and Cooperating
S-40
Al-Anon's Eleventh and Twelfth Traditions are explained for members working with the media and professionals. 8 pages.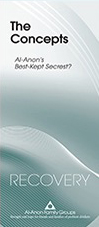 The Concepts–Al-Anon's Best Kept Secret?
P-57
Explains Al-Anon's third Legacy for worldwide service in an easy-to-understand manner. Illustrated. 32 pages.
Conflict Resolution Set Using Our Twelve Traditions
S-70
Information to aid members in preventing and dealing with conflict in Al-Anon groups and service arms. The Kit contains S-71, S-72, and S-73.