Need more information? Please contact our Literature Distribution Coordinator by emailing your questions to: os.literature.distribution@gmail.com
---
Pamphlets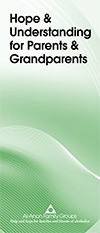 Hope & Understanding for Parents & Grandparents
P-94
Includes description of the challenges facing parents and grandparents of young problem drinkers, as well as a wide variety of inspiring personal stories and a section on how parents and grandparents apply the Twelve Steps. 24 pages.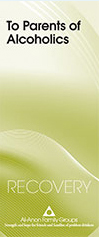 To Parents of Alcoholics
P-16
Sharings from parents of alcoholics and answers to frequently asked questions help relieve the fear, anger, blame, guilt, and confusion of realizing your child is an alcoholic. 16 pages.
How Can I Help My Children?
P-9
Inspiring stories by parents describe how they helped their children understand the family disease of alcoholism. 24 pages.

Parents of Alcoholics Reprint
R-18
Stories from parents of alcoholics describe their struggle with detachment, responsibility, guilt, and letting go. Reprinted from Al-Anon's monthly magazine, The Forum. 12 pages.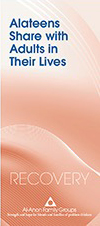 Alateens Share with Adults in Their Lives
(formerly: Dear Mom and Dad)
P-67
For any adult in contact with a teenager affected by someone else's drinking. (Formerly titled Dear Mom & Dad.) Six pages.
---