Frequently Asked Questions – FAQ's
1. How do I get my Al-Anon/Alateen-related event posted?
Please use online form for events to communicate your information to the website coordinator. It is very much appreciated if you can enter event details in the form's information boxes so that we can minimize re-entry for the website. Flyers are always welcome as well. Preferred flyer format is PDF or JPG/PNG. Microsoft Word and Power Point documents are not accepted because of the risk if malware infection.

2. Why use the new online form for meeting/group changes when I can send an email just as quickly?
Please communicate any and all changes to meetings and groups via our new online Group Records Registration / Change Form. Even if it is 'just' a small change in the starting time…
Why not write a direct email instead? Your quick message has a ripple effect: the Ontario South Website is not the only place where it needs to be implemented. There are many more members involved in service. Imagine all of them having to scan their email inbox for possible meeting/group changes and wondering whether their fellow trusted servants are already in the loop… The single notification channel that is the online form is quicker, more efficient and it lessens errors due to manual re-entry by many fingers…
Consider it your personal service not just to your fellows in service, but to all newcomers, so that they may use our websites to find out where and when our meetings are held.
3. Meeting website listing feedback form
Every meeting details page has a quick feedback form. This form is located in the left bottom corner of these pages as shown below and helps keep online information updated with recent changes.
Using it automatically sends all pertinent information to the Website Coordinator and the Group Records Coordinator.
All you need to do is enter your remarks or changes. No need to enter any meeting or group information, as that will automatically be included when you submit.
Note: this form does not replace the regular Group Records Registration and Change form mentioned in the previous paragraph. That form is still and always to be used for group contacts and other information that needs to be on file in Ontario South and at our World Service Office.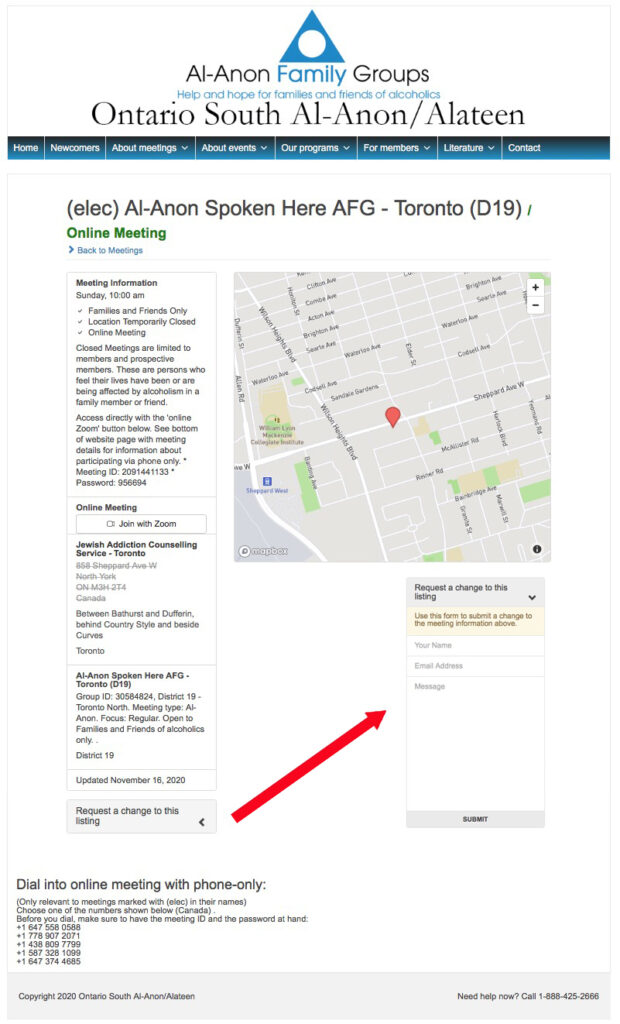 4. Website change requests, suggestions and error reporting
If you spot an error: don't be shy, reach out and let me know. Do you have suggestions and requests for improving the Ontario South website? Send me an email. I'd love to have a chat with you about your ideas!
Thanks for visiting!
Yours in Service,
Ontario South Website Coordinator
---