Need more information? Please contact our Literature Distribution Coordinator by emailing your questions to: os.literature.distribution@gmail.com
---
The Dilemma of the Alcoholic Marriage
B-4
Help for the spouse in dealing with problems in alcoholic relationships. Discusses anger, communication, sex, and more. Indexed, softcover. 102 pages.
Intimacy in Alcoholic Relationships
B-33
Members share their challenges with all aspects of intimacy–physical, emotional and spiritual–in all relationships affected by the family illness of alcoholism. Indexed, softcover. 144 pages.
Al-Anon is for Men
P-1
Helps men identify typical reactions to alcoholism in another person. 6 pages.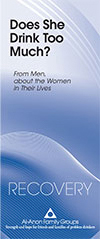 Does She Drink Too Much?
P-62
Men affected by women alcoholics share how Al-Anon has helped them. 6 pages.
---