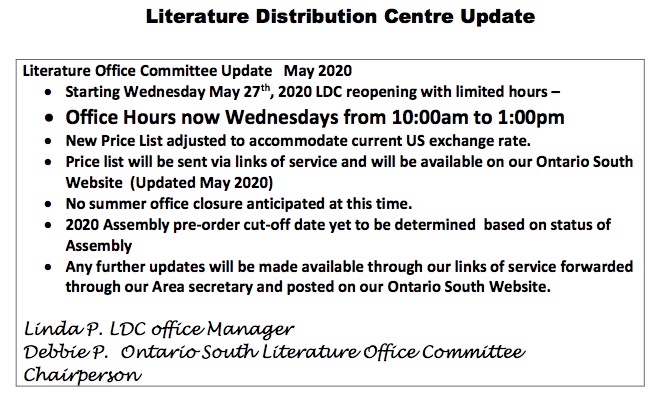 Welcome to the Ontario South website. This site contains general information about our Al-Anon/Alateen programs, offers a list of (online and physical) meetings, events and useful links.
The below is an excerpt from one of our books that seems particularly appropriate during the COVID-19 crisis:
No problem lasts forever. No matter how permanently fixed in the center of our lives it may seem, whatever we experience in this ever-changing life is sure to pass. Even pain.
Difficult situations often bring out qualities in us that otherwise might not have risen to the surface, such as courage, faith, and our need for one another. All of our experiences can help us to grow.
But we may need patience. Some wounds cannot be healed quickly. They must be given time. In the meantime, we can appreciate the new capabilities we are developing, such as the capacity to mourn and the willingness to accept. Let us share our losses and triumphs with each other, for that is how we gather courage.

Thought for the Day
Remembering that this too shall pass can make it easier to get through a difficult day. I will be very gentle with myself during this time. Some extra loving care and attention to myself can make everything a little easier.

From:
March 17, Courage To Change
©A1-Anon Family Group Headquarters, Inc.
---
Attending online meetings
Please be aware that a lot of meetings in Ontario South have notified us of temporary closures due to the COVID-19 virus crisis. Suspended meetings are greyed out in our meeting list overview. Groups that have temporary online meeting are marked with (elec) and you will find more details about participating in the details of such meetings. Go to our 'About Meetings' page to find a list of virtual meetings organised by Districts rather than specific groups.
Please keep us updated
If a meeting shows as active while it is in fact temporarily closed, please make sure to notify us so we can adjust our listings and help prevent all from unexpectedly finding the meeting doors closed.
Need help now? You are not alone…
Our circle of help with sponsors and fellow group members is here for you – a chat on the phone can bring relief in difficult situations. If you are new to our program and want to get in touch with us, you can reach out at any time to the regional telephone answering services listed on our Contact page. This page also has email addresses and regional websites that may contain valuable local information for you. Our international telephone number is shown in the footer of this website.

On the YouTube channel of our World Service Organisation are lots of materials to listen to and to watch. This can be a good alternative for a (speaker) meeting when you are unable to go to a group and there is no online meeting. Access these materials via the social buttons in the sidebar menu (bottom of page on a mobile device) or go there directly by clicking here.

Besides our normal physical meetings and temporary online meetings, our worldwide organisation also has regular electronic meetings. You can participate via a variety of media from the comfort of your own home. These electronic meetings are listed on this World Service Organisation page:
https://al-anon.org/al-anon-meetings/electronic-meetings/
---