Please email new requests directly to our web coordinator. Responses will be emailed promptly to the groups in need of help. Thank you for considering doing service!
---
Assembly 2022 bids requested before May 1, 2021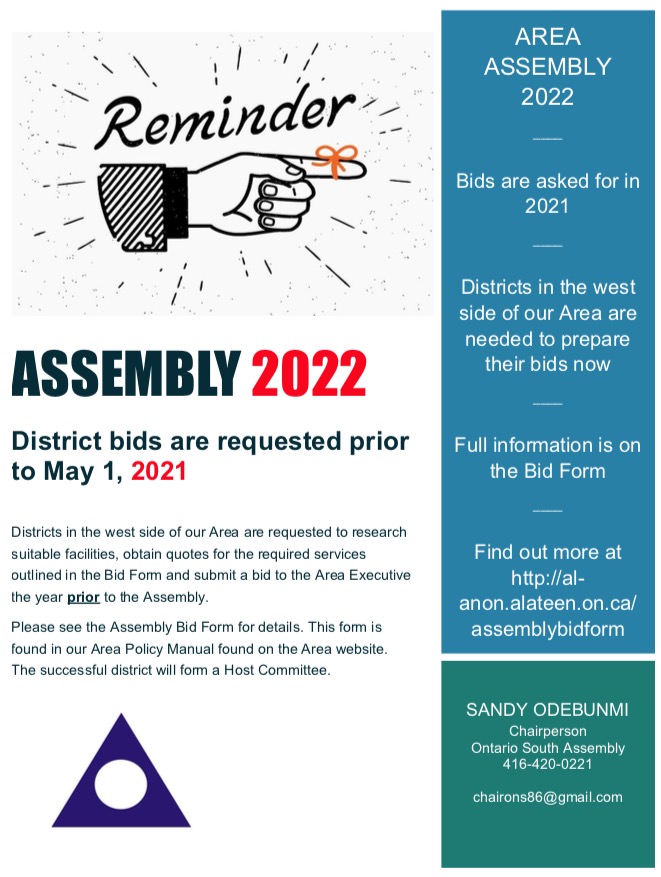 Post date: March 23, 2021
---
'Roadtrip 2022' volunteers needed now: bid-deadline: July 2021
Would you be interested in helping shape the 2022 Road Trip with our Board of Trustees?
At the 2020 Area Assembly a motion was accepted to present a bid to the World Service Office for this event, that is an opportunity to personally meet and interact with those in service to Al-Anon at the Board of Trustees, Executive Committee and the Executive Director.
If Ontario South is selected to host the event, as a Canadian member you will:
hear personal stories from Al-Anon members who are currently serving as Trustees
learn more about how Al-Anon spreads the "message of hope" worldwide
get an opportunity to share your own thoughts and concerns regarding our fellowship
experience first-hand how your donations are working
get information about what happens in committees such as Literature, Policy, The Forum and more
This special event and opportunity usually happens in October, following a quarterly Board meeting.
A committee is needed to formulate a bid by July 2021 so that it can be evaluated by the Area Executive. Feel free to download, distribute and discuss this even with your fellow members and groups.
Post date: March 8, 2021
---
Literature Distribution Centre needs help
Our Literature Distribution Centre needs your help with getting the copies of 'Al-Anon Faces Alcoholism' to the membership and the public. They have many in stock that could not be distributed to groups due to the canceling of our regular face-to-face AWSC and Assembly. Also still in stock: the '2020 World Conference Summary' that was presented during the virtual Assembly by our Ontario South Delegate. Please have a look at the Literature Corner and the Literature Home pages for order details.

Post date: March 5, 2021
---
Saturday Night Open (SNO) seeking for
help with weekly speaker meetings
The Saturday Night Open AFG group (SNO) is in need of help from members and groups willing to participate in the weekly meetings. Volunteers who would like to speak are also welcome. If only a few from your group can attend, the two committee members on each week will be happy to fill in as readers: you are not alone! Before Covid-19 this group used to meet in St. Ansgar Church, Avenue Rd. and Lawrence, Toronto.
Thank you for your commitment to host the Saturday Night Open. This group belongs to all of us and it is a valuable part of our service work.
Contact email: dale.cedarbrae@gmail.com
Post date: February 5, 2021
---
Help us answer the GTA phone lines
416-410-3809
"Hello this is Al-Anon.
How may I help you?"

Volunteers for telephone answer service are always needed. This is a great Al-Anon service opportunity."Participation is the key to harmony" (Concept 4). This is done from your home. All information is provided. Contact information about this service:
email Rose at rosefreethy17@gmail.com, or call the number 416-410-3809.
(2021, Ongoing service request)