Please email new requests directly to our web coordinator. Responses will be emailed promptly to the groups in need of help. Thank you for considering doing service!
---
Assembly 2022 bids requested before May 1, 2021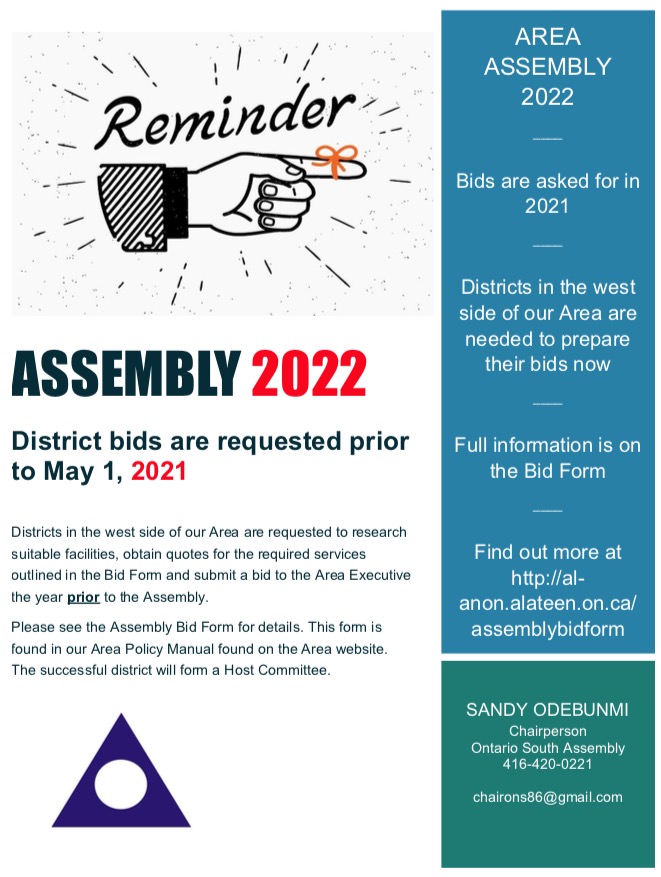 Post date: March 23, 2021
---
Saturday Night Open (SNO) seeking for
help with weekly speaker meetings
The Saturday Night Open AFG group (SNO) is in need of help from members and groups willing to participate in the weekly meetings. Volunteers who would like to speak are also welcome. If only a few from your group can attend, the two committee members on each week will be happy to fill in as readers: you are not alone! Before Covid-19 this group used to meet in St. Ansgar Church, Avenue Rd. and Lawrence, Toronto.
Thank you for your commitment to host the Saturday Night Open. This group belongs to all of us and it is a valuable part of our service work.
Contact email: dale.cedarbrae@gmail.com
P(2021, Ongoing service request)
---
Help us answer the GTA phone lines
416-410-3809
"Hello this is Al-Anon.
How may I help you?"

Volunteers for telephone answer service are always needed. This is a great Al-Anon service opportunity."Participation is the key to harmony" (Concept 4). This is done from your home. All information is provided. Contact information about this service:
email Rose at rosefreethy17@gmail.com, or call the number 416-410-3809.
(2021, Ongoing service request)