Please email new requests directly to our web coordinator.
---
The Oakville Sunday Night Open (OSNO) committee needs your help!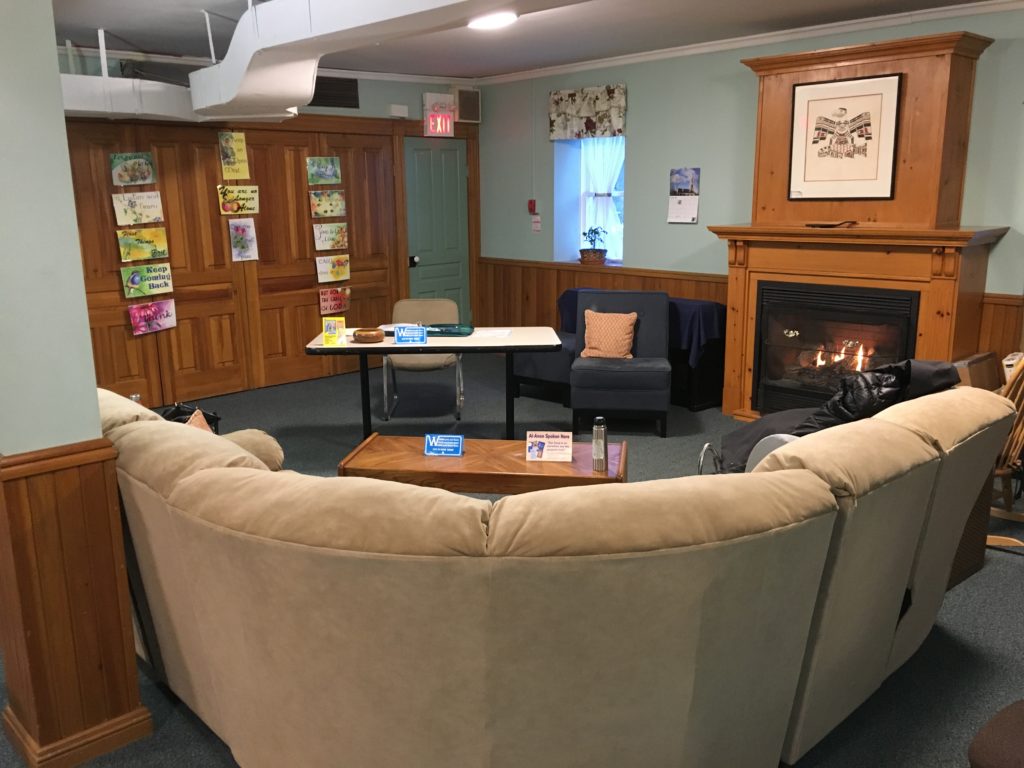 The Oakville Sunday Night Open (OSNO) provides a unique opportunity for newcomers, and professionals, to become acquainted with the Al-Anon program in the comfortable setting of our room with fireplace.
Guest speakers are able to convey the full sense of the impact of alcoholism, and the strength and hope they have received from the Al-Anon program. This meeting is open to all and as a member of our 'audience' all you have to do is sit and listen! Afterwards, there is time to enjoy fellowship with other members and see our collection of Conference Approved Literature (viewing only). We welcome newcomers and current members alike!

In order to provide this service, we rely on our committee members, and the availability of hosting groups who bring their own speaker and individual guest speakers. Without these, OSNO would not be viable.
We need you!
We are a small committee and in the coming 6 months will be temporarily missing some of our usual hands to make these inspiring evenings happen, so we need you.
Encourage your group to come and host!
If your Al-Anon group has never hosted this open meeting, please consider doing so. All that is needed is someone to chair, two members to read our Legacies and one or two speakers. You are welcome to bring as many supporting members as you want.
What does it mean to be on our committee?
As a member of our committee all you have to do is open up our meeting room, set it up with our materials and greet attendants, much like at any other Al-Anon meeting. You hardly ever have to do that alone, as either another committee member or one of our regulars are usually early and/or willing to stay until you close the meeting room.

Chairing the meeting
When we have a hosting group, you start the meeting and then hand it over to the hosting chair. When we do not have a group, the preamble is printed out and ready for you to read, and introduce the speaker of that evening.
If we are without a host or a speaker unexpectedly, we have a wealth of international Al-Anon speakers at hand, ready to go on our DVD player.

Notifying hosting groups and speakers
We are also grateful for your help in notifying upcoming groups and speakers about their commitment.
Can you help?
Come and have a chat with us or email us at afg.osno@gmail.com. Download the flyer below for contact information and feel free to distribute and discuss it in your group or District-meeting.
If you have never attended the OSNO, mark Sunday night at 7:30pm on your calendar. We hope to see you in our cozy basement room at Munn's United at the intersection of Dundas and Sixth Line in Oakville.
---
Help us answer the GTA phone lines
416-410-3809
"Hello this is Al-Anon.
How may I help you?"

Volunteers for telephone answer service are always needed. This is a great Al-Anon service opportunity."Participation is the key to harmony" (Concept 4) This is done from your home. All information is provided. Contact information about this service:
email Rose at rosefreethy17@gmail.com, or call the number 416-410-3809.
---